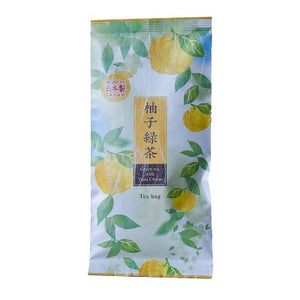 Tafu Yuzu Chitron Green Tea Bag
Contains 11 Tea Bags
Ingredients:

Green Tea, Dried Yuzu Citron Peel, Green Tea Powder

Serving Size: 2g (0.07 oz)
Servings: 11
Calories per servings: 2

How to brew green tea:
(1) Put the tea bag into tea cup.
(2) Pour 120ml hot water into the cup right after boiled.
(3) Wait for 70 seconds and remove the tea bag from the cup.
Green Tea with Yuzu Citron
This tea uses Yuzu Citron which is from Kochi, the largest producer in Japan.
We blend green tea leaves with Yuzu Citron peel to produce this special tea.
The tea from these leaves has a beautiful green color and a delightful aroma.
Enjoy the elegent flavor of this wonderful tea.
---
We Also Recommend