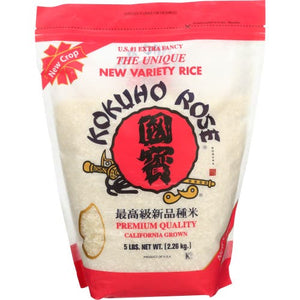 Kokuho Rice Sushi, 5 Lb
This Extra Fancy Japanese Rice is brought to you by Kokuho Rose in a package of 2.26 kilograms! This amount of rice will ensure that you won't have to worry about stocking up as much as usual. It is California-grown high-quality Japanese rice that is medium-grain in size. This Kokuho rice is easy to prepare and results in a bowl of soft and sticky white rice that is also perfect for making sushi. 
Why not boil this Extra Fancy rice either in a rice cooker or boil over low heat in salted water. After you have drained the rice, you can either enjoy it by itself or pair it with roasted vegetables, grilled meat, seafood, or tofu for protein. For your sauce, we recommend trying Teriyaki Sauce, Soy Sauce, or Curry sauce. 
Kokuho Rose first introduced their medium-grain rice to the domestic market in the year 1963. Since then, their rice that carries a special texture and distinct flavors has become one of America's favorite Japanese rice.
Ingredients:

 

100% California Grown Medium Grain Milled Rice (Water Polished)
Facts: Product of USA 5 lbs (2.26 kg)
---
We Also Recommend