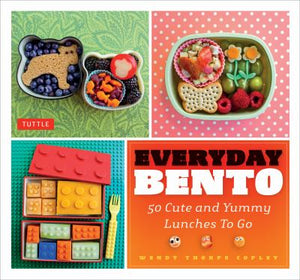 Everyday Bento 50 Cute and Yummy Lunches to Go
Your kids will look forward to what's in their lunchbox every single day with the delightful collection of recipes in 
Everyday Bento
!
The bento food movement teaches us that foods can be attractive, nutritious, fun and delicious all at the same time. Kids love to try foods that bring a smile to their faces, and will often eat things they wouldn't otherwise try. For example, they'll love an adorable bear cub made from brown bread, peanut butter and jelly nestled on a bed of blueberries. Cut watermelon into hearts, and tuck them next to a ham sandwich shaped like ballet slippers for your budding ballerina. Create building bricks from healthy cheese, carrots and cucumbers—or a hot dog octopus, swimming across a sea of cucumber. Picky eaters or not, they'll try it!
Wendy Thorpe Copley writes the popular bento blog Wendolonia, which takes the traditional Japanese concept of bento—a single meal packed at home in a reusable container—and Americanizes it. Using simple ingredients found in any grocery store, Wendy creates entertaining meals that are sure to delight even the most finicky eater. Some of the fun and easy bento creations here include:
Princess Bento
Rock and Roll Bento
Snowman Bento
Butterfly Bento
Farm Yard Animals Bento
Besides being great fun to look at, bento lunches are a healthy way to enjoy food while keeping portions in check. Freshly-prepared lunches packed in portable, reusable bento boxes are also kind to the environment and easy on the wallet—very important in today's economy. 
Everyday Bento
 teaches you a few simple techniques to make creative lunches, all in a reasonable time-frame for busy working parents.
The 50 bento meals in this cookbook feature familiar foods with fun themes that will appeal to children and adults alike. Follow the easy step-by-step instructions to recreate each bento box, or mix and match different elements from the book to make your own unique creations. Make lunch fun again with 
Everyday Bento
!